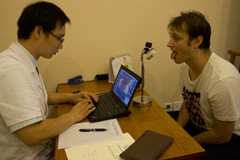 Traditional Chinese Medicine is shedding its old, sometimes dingy approach and pulling in new fans with a very different profile. Belle Taylor pays a visit to some new-age practitioners of ancient cures.
Alex Tan is holding court at The Hutong, an expatriate-run Chinese cultural center in the heart of Beijing. "See that plant?" He points to a sad looking leaf drearily sticking out of a pot on the windowsill. "It's alive, but it's not thriving. But I bet if I gave it more sun, more water, better soil, it would look a lot healthier."
The predominately European audience nod enthusiastically. No one wants to be a droopy pot plant, they want to be like Tan, an Australian Traditional Chinese Medicine doctor who practically bursts with good health and espouses the benefits of TCM with the fervor of a true believer.
Tan, whose father is Chinese and mother is Caucasian, runs his Straight Bamboo TCM clinic out of The Hutong and a spa in Beijing's hip Sanlitun area, promoting "Chinese medicine with a Western perspective".
He has degrees from Australia in both engineering and TCM, allowing him to explain some of the more esoteric aspects of this 3,000-year-old medical system with an engineers matter-of-fact directness.
Tan might be uniquely placed to straddle the two cultures, but he is just one of a growing army of Chinese medical practitioners who have identified a market among Westerners, where rising incidences of illnesses such as cancer and diabetes are leading people to explore alternatives to mainstream Western medicine.
People are also living longer, prompting an interest in not only recovering from illness, but avoiding it in the first place. Preventative medicine is a major foundation of TCM.
"We believe everything needs to be done in moderation," says Dr Lang Cai, a TCM practitioner at the Beijing United Family hospital that caters to many expats in the capital.
In China, TCM is often offered alongside Western medicine in major hospitals, and Lang says she gets both Chinese and foreigners through her doors, but she would like to see more patients visit before they are sick.
"People should come earlier, not wait until symptoms come," she says. "Some patients might go to the Western practitioner for a check up physically and they will say, 'you have no problems, go home and relax,' but maybe in Chinese medicine we can find something wrong, something is still functioning, but is in the early stages (of becoming a problem)."
Increasingly, foreigners are avoiding hospitals and turning to small clinics and spas for TCM treatment. One such business is Beijing's Oriental Inter-Cultural Medical, a TCM clinic targeted at foreign clients with two venues in Beijing and one in Tianjin.